Climbing Enzo is the climbing park on holidaypark de Krim and accessible to everyone.

From our central tower, routes with different levels have been set out for 2 hours of entertainment! The adventure will be concluded with a free fall ... From 8 meters high you step out of the tower and you'll be back down in a fraction of the time.

The floors of the climbing park are at 4 and 8 meters. And on each floor there are 2 routes with 8 obstacles.


OPENING HOURS
We are open on fixed days and times from April to October. Online reservation is required. Below you will find an overview of the days and times that we are open and you can book directly.
Everyone from 10 years or older is allowed to climb independently.
Children under the age of 10 must be accompanied by an adult and above 1.30 meters.
Book your climbing adventure here!
Climbing with school??
We have very reduced rates for both primary and secondary education. For more information about this, it is best to send an email to: info@teambuildingtexel.nl
Location
Follow the signs: "De Cocksdorp" and take exit 33 on your left. You are now entering the Crimea holiday park. Drive up the park and follow the signs climbing park.
Climbinpark Texel: "Klimmen EnZo"
Roggeslootweg 6
1796 JV De Cocksdorp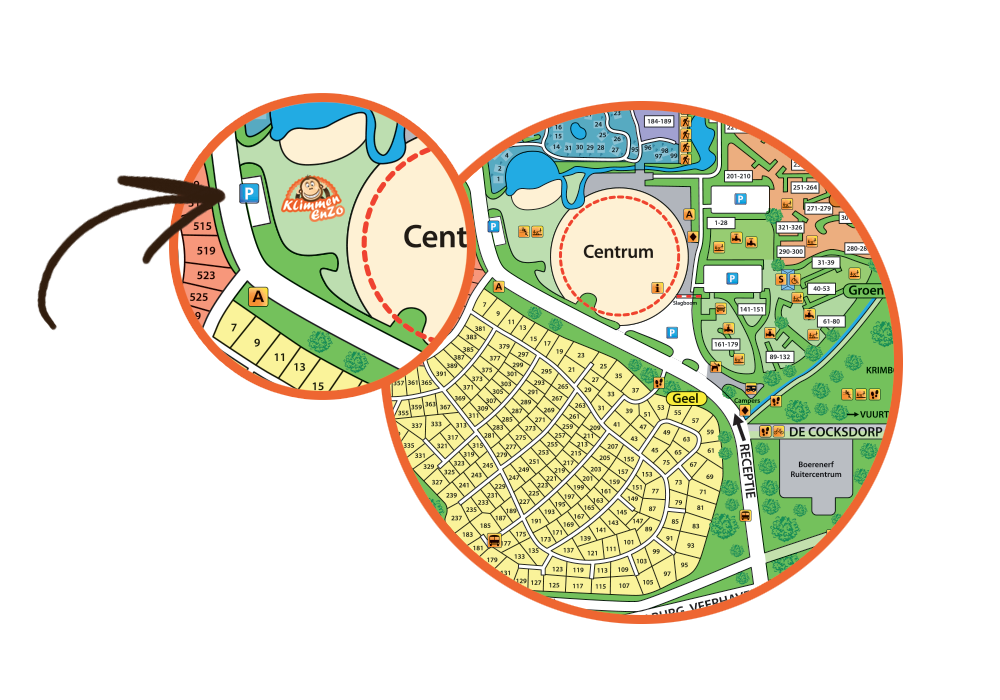 Faq
What are the costs?
The costs are € 16.00 per person. This is the price that applies to both kids and supervisors
How long can you climb?
You can climb for 2 hours. How long it takes exactly depends on how fast you climb and want to climb yourself;)
What kind of clothes should I wear?
Sporty clothing in which you can move well.
Long hair in a tail, closed shoes and no jewelry.
Is there a minimum age?
From 10 years old you can come and climb independently. Under the age of 10 you can also come and climb, but you must be accompanied by an adult.
PAY ATTENTION! Everyone must also be at least 1.30 meters.
When can I come and climb?
The climbing park is open on fixed days and times from April to October. You can find these days and times in the calendar. You can also book directly here.
Is there a maximum weight for climbing?
Actually we do not have a maximum weight, but you have to be physically able to pull yourself up on something.
My child is smaller than 1.30 meters, but has climbing experience, can he / she still climb?
Unfortunately, with us you really have to be 1.30 meters, otherwise they cannot click themselves over and they will hang in their harness. This is not pleasant.
As a parent I do not dare to climb, but my child is still too young, what now?
Under 10 years old, climbing is only allowed under the supervision of an adult. Unfortunately, he / she cannot go with an older brother or sister up to 16 years old. Older than 16 is allowed.
We cannot offer guidance either, because we have to pay attention to all participants in the climbing park.
our guests talk about Texel active
Our guests give us an average of 9!
Below you will find some reviews:
Wido Platenkamp
in de afgelopen week
Geweldig activiteit dat blowkarten. Deskundige instructies en met de haren vol met zand het strand verlaten. Het was Top! Een aanrader om te gaan doen als je op Texel bent.
Maaike Benschop
een maand geleden
Brandingkajakken en raften is geweldig. Je hoeft niet jong of totaal super sportief te zijn om hieraan mee te doen. Echt een aanrader voor een bedrijfs- of een verjaardagsuitje. Of gewoon omdat het ontzettend leuk is en je er veel bij moet lachen ook, om jezelf en anderen. Omdat ze stuntelen of omdat het geweldig goed gaat. Allebei leuk.
Anja Botter
een maand geleden
Blokarten gedaan met gezin...wat hebben we genoten Was de eerste keer maar vooral niet de laatste keer Als we het eiland weer bezoeken staat deze activiteit zeker op ons agenda .... Bedankt voor een geweldige uurtje plezier ..
Barbara en Jan Boon
een maand geleden
Heel erg genoten van ons blocnote uurtje op het strand bij de vuurtoren. Goede instructies en hulp van een enthousiast team. Warm aanbevolen! ( maar trek wel warme kleren aan)
Jurjen Veldboom
een week geleden
Zeer leuke ervaring gehad! Een mooie afsluiter van een top weekend.