Climbing Enzo is the climbing park on holidaypark de Krim and accessible to everyone.

From our central tower, routes with different levels have been set out for 2 hours of entertainment! The adventure will be concluded with a free fall ... From 8 meters high you step out of the tower and you'll be back down in a fraction of the time.

The floors of the climbing park are at 4 and 8 meters. And on each floor there are 2 routes with 8 obstacles.


OPENING HOURS
We are open on fixed days and times from April to October. Online reservation is required. Below you will find an overview of the days and times that we are open and you can book directly.
Everyone from 10 years or older is allowed to climb independently.
Children under the age of 10 must be accompanied by an adult and above 1.30 meters.
Book your climbing adventure here!
Climbing with school??
We have very reduced rates for both primary and secondary education. For more information about this, it is best to send an email to: info@teambuildingtexel.nl
Location
Follow the signs: "De Cocksdorp" and take exit 33 on your left. You are now entering the Crimea holiday park. Drive up the park and follow the signs climbing park.
Climbinpark Texel: "Klimmen EnZo"
Roggeslootweg 6
1796 JV De Cocksdorp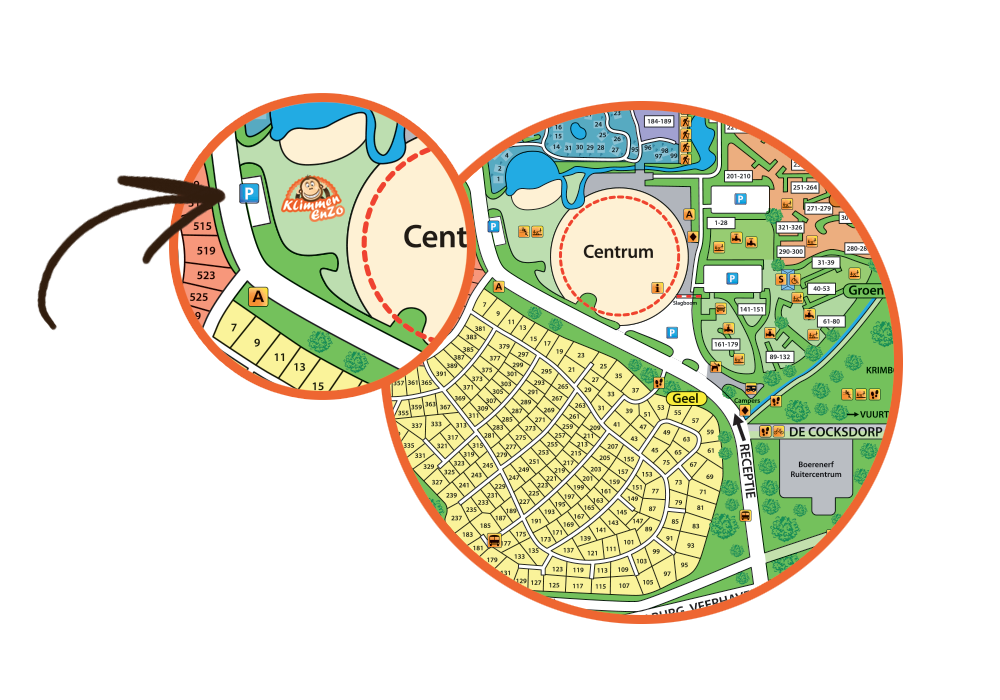 Faq
What are the costs?
The costs are € 16.00 per person. This is the price that applies to both kids and supervisors
How long can you climb?
You can climb for 2 hours. How long it takes exactly depends on how fast you climb and want to climb yourself;)
What kind of clothes should I wear?
Sporty clothing in which you can move well.
Long hair in a tail, closed shoes and no jewelry.
Is there a minimum age?
From 10 years old you can come and climb independently. Under the age of 10 you can also come and climb, but you must be accompanied by an adult.
PAY ATTENTION! Everyone must also be at least 1.30 meters.
When can I come and climb?
The climbing park is open on fixed days and times from April to October. You can find these days and times in the calendar. You can also book directly here.
Is there a maximum weight for climbing?
Actually we do not have a maximum weight, but you have to be physically able to pull yourself up on something.
My child is smaller than 1.30 meters, but has climbing experience, can he / she still climb?
Unfortunately, with us you really have to be 1.30 meters, otherwise they cannot click themselves over and they will hang in their harness. This is not pleasant.
As a parent I do not dare to climb, but my child is still too young, what now?
Under 10 years old, climbing is only allowed under the supervision of an adult. Unfortunately, he / she cannot go with an older brother or sister up to 16 years old. Older than 16 is allowed.
We cannot offer guidance either, because we have to pay attention to all participants in the climbing park.
our guests talk about Texel active
Our guests give us an average of 9!
Below you will find some reviews:
Marcel Mekkering
4 maanden geleden
Het Blo-karten was heel erg leuk om te doen! Zowel voor mensen met, als zonder zeil ervaring. De organisatie was uitstekend! Goed op tijd gecommuniceerd dat de afspraak verzet moest worden in verband met te weinig wind, naar een dag later. En ook goede uitleg en begeleiding door de meiden van Team Texel Active ter plekke. Aan te bevelen! Voor ons een leuke afsluiter van onze midweek op Texel!
Meike Kersten
2 maanden geleden
Op pad geweest met Segways! De korte en heldere instructie vooraf werd gekenmerkt door een positieve benadering en persoonlijke tips. Het gebruik van de Segway ging gelukkig heel erg intuïtief. Na het oefenen van belangrijke manoeuvres op het grasveld en de aangelegde paadjes op het terrein gingen we de weg op en het Dennenbos in. De gidsen wisten ons veel interessants te vertellen en namen echt de tijd voor ons. Een leuk en ontspannen uitje!
Diana
een maand geleden
Wat een geweldige ervaring is e foilen. nooit gedacht dat wij( vrouwen van 47 en 52 jaar) dat konden. De instructeur was heel relaxed en heeft de les super opgebouwd zodat wij in heel korte tijd het bord uit het water konden krijgen, nog wel op onze knieën maar het was een bijzonder gevoel. Heel goed dat het door jullie aangeboden word het is prijzig maar het is de ervaring zeker waard!
Kevin Rombouts
een maand geleden
Na klacht snel contact gehad met Texel Active en snel afgehandeld. Fijn contact verder. --- Na een last-minute (ochtend vooraf) boeking, werd het evenement afgeblazen. Hier kwamen we helaas pas op het strand achter nadat er niemand te bekennen was en de dame in de lokale strandwinkel ons moest vertellen dat er "heel de dag al niemand was komen opdagen."
Marcel Annema
3 maanden geleden
We hadden als gezin (ouders met 3 jongens in leeftijd van 9, 11 en 12 jaar) veel zin om te klimmen, dit al eerder op diverse locaties gedaan. Grote groep kreeg instructie en daarna tegelijk naar boven, nagenoeg geen begeleiding en verouderde klim locatie. Begon daarnaast ook nog eens hard te waaien, wat leiding ook aangaf. Ondanks dat ging klimmen door, wij zijn na half uur vertrokken aangezien het niet verantwoord was. Dit ook aangegeven, wordt door organisatie niets mee gedaan. Een teleurstellende ervaring, gaat kennelijk om zo snel mogelijk geld te verdienen! NOOIT WEER!