Climbing Enzo is the climbing park on holidaypark de Krim and accessible to everyone.

From our central tower, routes with different levels have been set out for 2 hours of entertainment! The adventure will be concluded with a free fall ... From 8 meters high you step out of the tower and you'll be back down in a fraction of the time.

The floors of the climbing park are at 4 and 8 meters. And on each floor there are 2 routes with 8 obstacles.


OPENING HOURS
We are open on fixed days and times from April to October. Online reservation is required. Below you will find an overview of the days and times that we are open and you can book directly.
Everyone from 10 years or older is allowed to climb independently.
Children under the age of 10 must be accompanied by an adult and above 1.30 meters.
Book your climbing adventure here!
Climbing with school??
We have very reduced rates for both primary and secondary education. For more information about this, it is best to send an email to: info@teambuildingtexel.nl
Location
Follow the signs: "De Cocksdorp" and take exit 33 on your left. You are now entering the Crimea holiday park. Drive up the park and follow the signs climbing park.
Climbinpark Texel: "Klimmen EnZo"
Roggeslootweg 6
1796 JV De Cocksdorp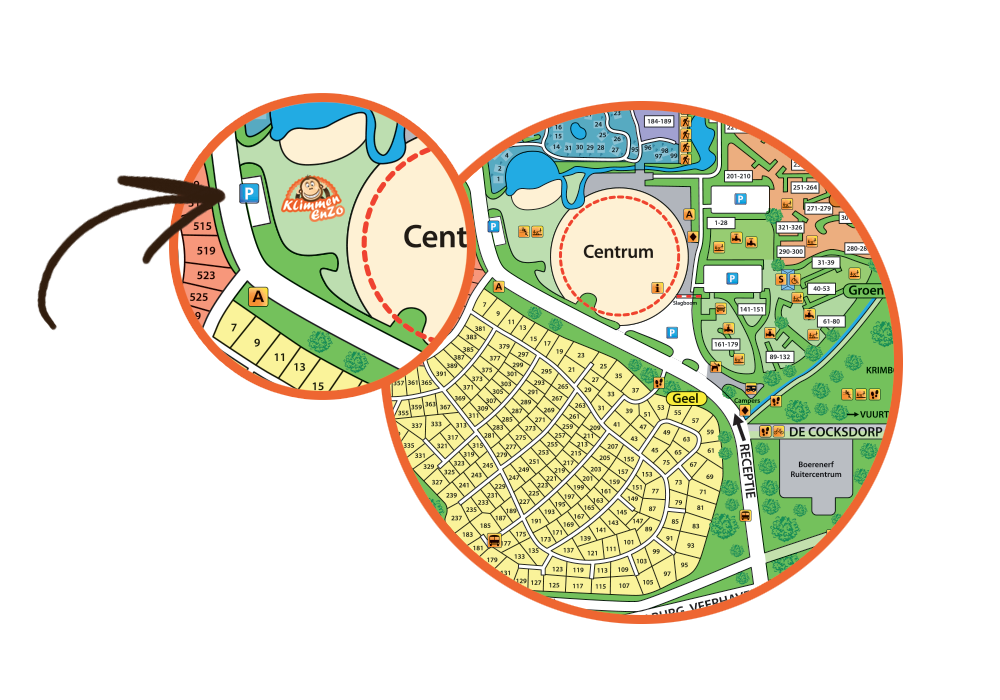 Faq
What are the costs?
The costs are € 16.00 per person. This is the price that applies to both kids and supervisors
How long can you climb?
You can climb for 2 hours. How long it takes exactly depends on how fast you climb and want to climb yourself;)
What kind of clothes should I wear?
Sporty clothing in which you can move well.
Long hair in a tail, closed shoes and no jewelry.
Is there a minimum age?
From 10 years old you can come and climb independently. Under the age of 10 you can also come and climb, but you must be accompanied by an adult.
PAY ATTENTION! Everyone must also be at least 1.30 meters.
When can I come and climb?
The climbing park is open on fixed days and times from April to October. You can find these days and times in the calendar. You can also book directly here.
Is there a maximum weight for climbing?
Actually we do not have a maximum weight, but you have to be physically able to pull yourself up on something.
My child is smaller than 1.30 meters, but has climbing experience, can he / she still climb?
Unfortunately, with us you really have to be 1.30 meters, otherwise they cannot click themselves over and they will hang in their harness. This is not pleasant.
As a parent I do not dare to climb, but my child is still too young, what now?
Under 10 years old, climbing is only allowed under the supervision of an adult. Unfortunately, he / she cannot go with an older brother or sister up to 16 years old. Older than 16 is allowed.
We cannot offer guidance either, because we have to pay attention to all participants in the climbing park.
our guests talk about Texel active
Our guests give us an average of 9!
Below you will find some reviews:
Marcel Annema
3 weken geleden
We hadden als gezin (ouders met 3 jongens in leeftijd van 9, 11 en 12 jaar) veel zin om te klimmen, dit al eerder op diverse locaties gedaan. Grote groep kreeg instructie en daarna tegelijk naar boven, nagenoeg geen begeleiding en verouderde klim locatie. Begon daarnaast ook nog eens hard te waaien, wat leiding ook aangaf. Ondanks dat ging klimmen door, wij zijn na half uur vertrokken aangezien het niet verantwoord was. Dit ook aangegeven, wordt door organisatie niets mee gedaan. Een teleurstellende ervaring, gaat kennelijk om zo snel mogelijk geld te verdienen! NOOIT WEER!
Personal Training Texel
5 maanden geleden
We hebben echt een te gekke tijd gehad met de one-wheelers! Voor mijn zoon en mij was het met onze snowboard ervaring gemakkelijk op te pakken, maar zelfs mijn vriendin (die nog nooit op wintersport is geweest) had het al snel onder de knie. Je kunt je eigen snelheid bepalen en daarmee maak je het zo uitdagend als je zelf wilt. Vallen en opstaan hoort erbij ;) Een heel leuk en uitdagend uitje met je gezin of met vrienden. Wij kunnen het iedereen aanraden!
Bas Waterham
3 maanden geleden
In plaats van een skivakantie werd het een week Texel. We komen hier al sinds onze jeugd en genieten altijd van het fantastische eiland. Meestal icm sportieve evenementen zoals de 4×15 , de Texelse halve marathon. Ook in deze week zijn we dagelijks actief geweest. Wandelen, fietsen, hardlopen en wat past er dan uitstekend bij? Juist, een kennismaking met blokarten bij Texel Active. Met zes familieleden naar het brede strand bij de vuurtoren. Wat een ervaring, je hebt het snel onder de knie na een goede en bondige instructie en een prima windje begonnen we aan ons uurtje blokarten. Wij hebben vreselijke lol gehad en komen beslist nog eens terug, dit smaakt echt naar meer. Bedankt voor de leuke middag Texel Active.
Bep Akkerhuis
3 maanden geleden
Hele leuke ervaring met blocarten van Texel Active . Windkracht 5 , netjes werd er een andere locatie een dag van te voren door gemaild. De aardige instructeur Milan gaf duidelijke instructies en het was genieten. Vader en zoon ( de Johnnen) genoten van een heerlijk uur blocarten . Echt een aanrader. En ze maakten ook nog foto's die ze gratis naar je mailen. Gewoon een hele leuke ervaring!!!
Yolanda
3 maanden geleden
Wij hebben een leuke middag gehad. Het blowkarten was een nieuwe ervaring voor ons en in deze toch wat suffe tijd konden we deze actie wel gebruiken. We werden opgewacht door twee enthousiaste instructeurs. De karts stonden al klaar en na een korte heldere uitleg konden we aan de slag. Als het even niet op rolletjes liep waren ze meteen in de buurt voor een duwtje of een aanwijzing. Kortom; een aanrader om bij Texel Active een leuke middag te boeken!!